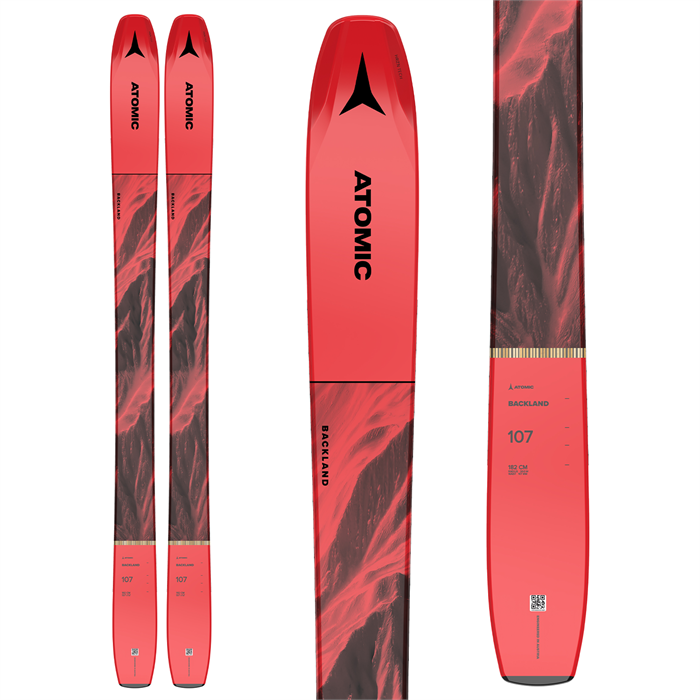 Atomic
Atomic Backland 107 Skis · 2022
We price match
Returnable
Is this product right for you?
Get free gear advice from an expert
Select a configuration to see prices from other sites. See a lower price? Let your expert know - we'll match it!
Ask a ski expert a question about this product
Is this right for me?
What's a more premium option?
Can you show me more like this?
What should I compare this to?
What's a cheaper option?
The Backland 107 is Atomic's answer to the question: What's a good lightweight touring ski that can still provide aggressive downhill performance? This ski is designed for those who put in distance and elevation on the uphill, and push their equipment on the way down. Stiff, strong, and snappy, this ski is at home on the steep and deep, as well as when put on edge and driven hard and fast.
Key Features:
Powder Rocker – With a profile of 20% tip rocker, 70% camber, and 10% tail rocker, this ski is shaped to handle both soft and firm snow.
HRZN Tech Tip – This tip technology provides an extra 10% of surface area to the nose of the ski, providing more float in powder and tracking ability through variable snow.
Carbon Backbone – This "backbone" of carbon running the length of the ski helps provide rigidity and stability without adding excess weight to the overall construction.
Recommended by Curated experts
Is this right for you? Chat with an expert to learn more about this product, compare it with similar options and get personalized recommendations.
Would an expert recommend this for you?
Luke Mislinski
Verified ski expert
Reviewed Jul 13, 2022
These skis are extremely fun, intuitive, and versatile! Atomic combined a light wood core with two carbon tubes running the length of the ski to make for an incredibly lightweight ski that tours like a dream but handles resort chop better than many heavier skis. They carve extremely well on groomers for their width. Yet, their asymmetrical construction and rocker profile make them a dream in pow.
Jay Adams
Verified ski expert
Reviewed Jul 13, 2022
These are a great choice for anyone blurring the line between a resort-specific ski and a backcountry-oriented ski. This thing can tour great and float well. At 107mm it's a ski for any condition. Coming in at 1500g with a wood core and carbon backbone, this has great snap and pop in the turns while the HRZN Tech in the tip provides a ton of float. With more of a directional feel to it due to the flatter tail, this ski has a little more performance in the turns and can definitely be ridden by advanced/expert skiers.
Andy Stebbins
Verified ski expert
Reviewed Jul 13, 2022
The Backland 107 is alight ski, and thanks to its wood/carbon core construction, it still offers a more than solid downhill performance. It offers very good uphill performance at around 1650g per ski, and thanks to its shallow rocker profile and unique flex pattern (softer shovels that quickly become stiff), there isn't any sacrifice on their downhill performance. They certainly are not the lightest touring skis out there, but they are one of the most well balanced.